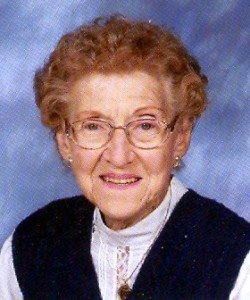 Lillian Opal Hanson passed away on March 28, 2014 at the age of 87.  Funeral services will begin at 2 p.m. Wednesday, April 2 at Grand Valley Lutheran Church.  Visitation will be Tuesday from 2-8 p.m., family present 6-8 p.m., at Anderson Funeral Home in Canton.
          Lillian was born on September 30, 1926 to Ole and Gunhild (Orstad) Aasheim near Canton, SD.  As a child she helped on the family farm while going to country school.  After graduation, she worked as a bookkeeper at Farmers Lumber in Canton.
          She married Kermit A. Hanson on February 17, 1954.  The couple moved to Simi Valley, CA where they ran a tractor and dump truck service for new home developments.    In 1971, they moved back to South Dakota with a short stay in Colorado.  Their last and permanent home was near Harrisburg, SD.  She worked at Litton Microwave until her retirement.
          Lillian loved spending time with her grandchildren and with anyone who would stop and visit.  She was always outdoors and relaxed by walk through the grove picking up twigs.  She also enjoyed playing the organ and accordion.
          She was preceded in death by her husband, Kermit; siblings- Henry, Walter, Gladys Vandermeer, Esther Myland, Alma Van Bockern, and Lenore Monen.
          She is survived by her son, Kirk (Brenda) Hanson, Canton; granddaughters, Leah (Alex) Humbert, Worthing, SD and Mara Hanson (Brett Block), Canton, SD; brother-in-law, Dale Mydland; cousin Elsie Severson, along with numerous nieces and nephews.